Reliable Asphalt Repair in Saint Paul
Capital City Asphalt Solutions is one of the most reputable asphalt repair companies in Saint Paul, MN. Our team of expert asphalt contractors have been providing high-quality services to its customers for many years, and our mission is to provide customers with quality workmanship and materials on every project. Our experienced team of technicians have been trained and certified to ensure that all repairs are done correctly and safely.
Capital City Asphalt Solutions offers a variety of services ranging from simple pothole repair to complex pavement resurfacing. We use only the latest, state-of-the-art equipment to make sure that all repairs are done right the first time. Additionally, they offer personalized customer service so that their clients can rest assured knowing their jobs will be handled with care and professionalism. Furthermore, Capital City Asphalt Solutions provides free estimates for all projects so that customers can easily budget for any repairs needed.
The team at Capital City Asphalt Solutions truly understand how important it is for a property owner or manager to have properly maintained asphalt surfaces. Their dedication to providing top-notch service ensures that each project is completed efficiently and effectively, leaving customers satisfied with the results every time. With their long history of excellent service and commitment to quality workmanship, Capital City Asphalt Solutions stands out as one of the best asphalt repair companies in Saint Paul, MN.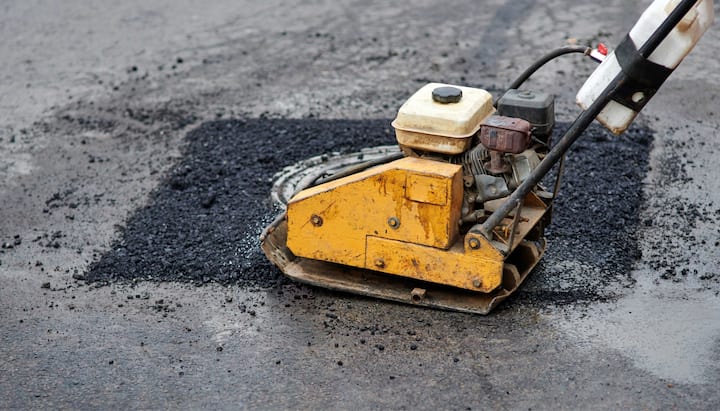 Get in Touch With Us
To get in touch with us here at Capital City Asphalt Solutions today, please give us a call or complete our contact form! We will be more than happy to discuss your project with you.
Do you need asphalt repair in Saint Paul
Asphalt repair in Saint Paul, MN is a necessity for any commercial or residential area. Knowing when to repair asphalt can be difficult and requires an experienced eye. The following three factors should be considered when determining the need for asphalt repair:
Weather conditions: Severe weather and temperature extremes are the most common causes of asphalt damage in Saint Paul, MN. Cold temperatures can cause asphalt to crack and weaken, while hot temperatures can cause it to soften and become brittle. Regularly monitoring the weather is critical for catching any signs of damage early on.
Traffic volume: Heavy traffic can wear down asphalt over time, leading to cracks and potholes. Keeping an eye on traffic levels on your property will help you determine if repairs are needed before further damage occurs.
Wear and tear: With age, asphalt surfaces can start to show signs of wear, such as fading color or oil stains from vehicles. Regularly inspecting your property's pavement will help you identify these issues before they become worse.
It is important to act quickly when it comes to repairing asphalt in Saint Paul, MN. If left untreated, even small damage can lead to larger problems that can be costly or dangerous in the long run. To ensure your property's safety and longevity, make sure you have a trusted team of professionals available for regular inspections and maintenance services.
Benefits of asphalt repair
Asphalt repair has many benefits for the city of Saint Paul, MN. To begin with, it can help to improve safety for drivers and pedestrians. Pot holes and other forms of damage to asphalt can cause unsafe conditions that can lead to accidents. By repairing these areas, a safer environment is created for everyone who uses the roads in the city.
Additionally, repairing asphalt can help to increase its durability and longevity. Unrepaired potholes or cracks may eventually lead to larger damage that requires more time and resources to fix. Additionally, asphalt repairs done on a regular basis can also help extend the life of roads and reduce maintenance costs associated with road upkeep. In this way, cities are able to save money while also providing citizens with a smoother ride when traversing the roads in Saint Paul.
Take pride in your lot with quality parking lot asphalt repair
As an extension of our asphalt driveway repair services for homeowners, we also specialize in asphalt parking lot repair for business owners. Our team of certified professionals use the latest techniques and technologies to provide effective solutions to any asphalt parking lot issue. We take pride in our ability to offer long-term, cost-effective results that will keep your parking lot looking great and functioning properly.
Our approach to asphalt parking lot repair includes:
Conducting a thorough inspection of the surface
Repairing any existing damage, such as cracks or potholes
Sealing the surface with a high-quality sealant
Applying a hot rubberized sealant to prevent water infiltration
Re-striping the area with updated lines and signage
At Capital City Asphalt Solutions, we understand how important it is for business owners to maintain a functional and attractive parking lot. We are committed to providing quality service that will help protect your investment and ensure that your property looks its best. From small pothole repairs to full-scale resurfacing projects, our experienced technicians have the knowledge and expertise to get the job done right.
Maintain the integrity of your pavement with asphalt crack repair
Asphalt crack repair is a necessary part of maintaining the integrity of asphalt surfaces in Saint Paul, MN. Properly maintained asphalt surfaces are essential for a variety of reasons, including:
Unrepaired cracks can lead to an uneven surface that increases the risk of slipping and falling.
Unrepaired cracks can lead to further damage which could result in costly repairs.
Unrepaired cracks can detract from the overall appearance of an area.
Repairs can help improve the look of any area with asphalt surfaces.
In order to ensure that asphalt surfaces in Saint Paul are properly maintained, it is important to address cracks before they become worse. Repairing small cracks can help extend the life span of asphalt paving and prevent further damage from occurring down the line. Depending on the severity of the crack, various methods may be used to repair them such as sealcoating, patching or filling with hot or cold mix asphalt materials. Professional asphalt contractors should always be consulted when dealing with any type of paving repair or maintenance due to their extensive experience and knowledge.
Asphalt driveway repair services for homeowners
Asphalt driveways offer homeowners a convenient and attractive space to park their vehicles. Unfortunately, over time, these surfaces can become cracked, pitted, or stained due to weathering and wear. Homeowners who want to keep their driveways in good condition can take advantage of asphalt repair services.
These services provide a comprehensive approach to repairing asphalt surfaces. Using specialized tools and materials, professionals can remove damaged sections of the driveway before filling in the gaps with new material. This process helps to restore the driveway's structural integrity and improve its appearance. In addition, sealcoating can help protect against future damage from moisture and UV exposure. With regular maintenance and timely repairs, homeowners can enjoy their asphalt driveway for years to come. Contact Saint Paul's leading asphalt company for a free estimate!